Nexo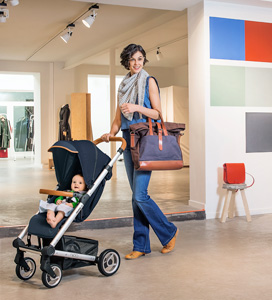 Mutsy Nexo
This newborn little brother of the i2 is a practical stroller with a firm back rest, a back and leg rest adjustment, a height adjustable push bar and a very compact fold.

The fantastic maximum reclined position and the front wheel suspension provide optimal comfort for the child when asleep.

Furthermore, the canopy is connected to the back and keeps the draught outside in every position.

The Nexo has a clean look, soft fabrics with cognac brown leather accents, and is very easy to fold and to operate.

The back recline can be adjusted with a single button at the back. The push bar can be installed at the ideal height and the small swivelling front wheels ensure the stroller rides comfortably wherever you go.